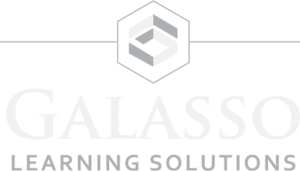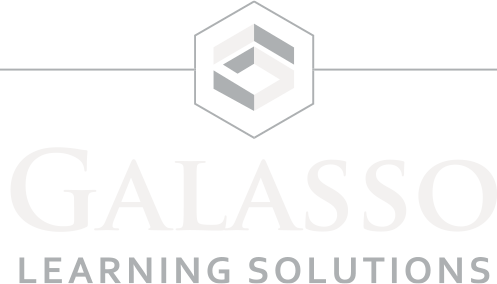 Don't leave the quality of your A&A content to chance!
Strong A&A content is hard to come by. It often seems that the presentation of highly technical content is inherently dry and often recited verbatim from a training manual.
But it doesn't have to be that way!
Technical A&A learning material From GLS is engaging, thought-provoking, and example-based
At Galasso Learning Solutions, we take difficult technical content and make it more easily understood and applied by using stories, analogies, and examples, that make the learning experience a positive one for course participants.
Additionally, our course packages are in a format that makes it easy for you to integrate them into a variety of LMS platforms.
Recorded Content
GLS recorded course packages are developed and delivered by industry experts with thousands of hours of training experience. They are designed to be easily and flexibly incorporated into almost any learning software platform. Course packages include:
• High definition, video lecture by Melisa Galasso in an easy to use MP4 format designed with streaming in mind
• Vivid, eye-catching PowerPoint slides
• Knowledge check and final exam questions and solutions
• All NASBA-required descriptions and details
SHARP PICTURE IN PICTURE FORMAT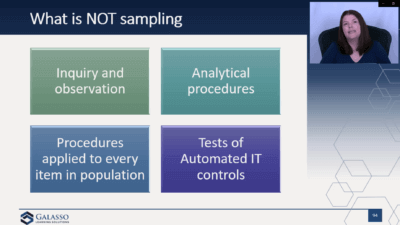 Licensing recorded course packages through Galasso Learning Solutions will improve the CPE offerings that you provide to your members while saving your organization time and money.
Galasso Learning Solutions Offers Over 125-Credits of Recorded Content Covering Dozens of Topics and Fields of Study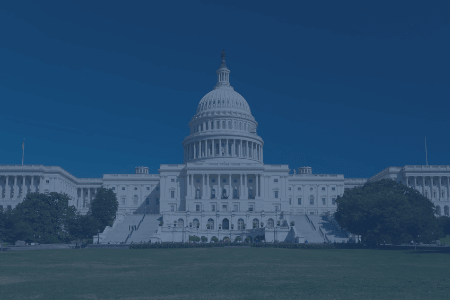 Government & Not-For-Profit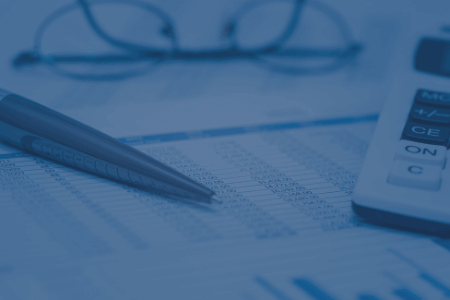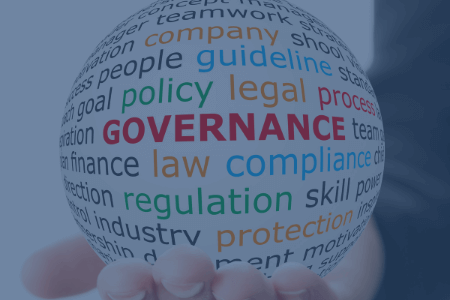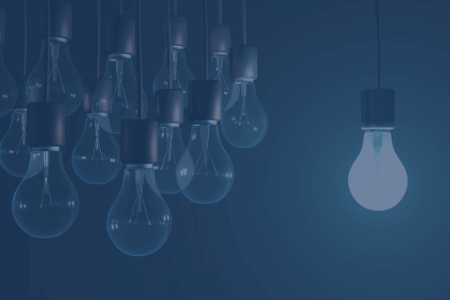 Professional Essentials & Ethics
Curious about the recorded content learning experience? Review a sample webinar below
Looking to provide your members with relevant A&A information in manageable pieces?
Explore our NANO Learning and Social Media bundles that allow you to quickly and easily communicate the latest A&A updates to your members through high-quality video content
All of our packages come with introductory verbiage and an element of co-branding so that you may effortlessly incorporate them into newsletters, LinkedIn feeds, Facebook, or YouTube to engage your audience
Why choose GLS?
• We offer engaging, high-quality content that incorporates the most recent industry guidance
• We are easy to work with and flexible to meet your specific needs
• All of our courses are both developed and presented by a technical expert
• Our fee structure is simple, low risk, and volume-based for on-demand content
• GLS offers revenue share opportunities for sales of live online webinars
Ready to Choose Galasso Learning Solutions?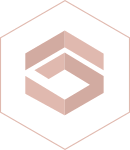 "My stint at SCACPA can be divided into 'before the GLS partnership' and 'after the GLS partnership.' After partnering with GLS, nearly every week, I can look forward to posting new video blog content. I have never had a problem on the technical side loading the video materials or accessing the marketing descriptions that lets our members know they are receiving clear, direct and insightful commentary on A&A issues that are making news."
– Gregory Hardy, Content Strategist for the South Carolina Association of CPAs
"Melisa is truly a subject matter expert in accounting and auditing and a very effective communicator. She is well received by attendees and often requested as an instructor for future events. She is always up for trying out new enhancements to our online platform and remains calm under the pressure that inevitably exists when working with online events. I enjoy working with her and hope to continue growing the relationship we have built."
– Kathy Suddarth, Online Learning Specialist, Virginia Society of CPAs

Organizations hire GLS to provide custom CPE courses for their teams. 
Conference planners trust GLS to make technical content engaging.
CPA societies look to GLS to make high-quality CPE accessible to their members.
Individual CPAs read the Genuine Learning Newsletter to stay current on important A&A news. 

 
Are you ready to see how we can support you?