CONTACT US
Frequently Asked Questions
What is custom training?
Custom training with Galasso Learning Solutions begins with a needs assessment. Based on this discussion, course material can be customized to account for a firm's client base, previous training activities, staff level of experience, and even the size of the audience.
A custom training should build on the audience's existing skillset in a way that helps the firm to reduce risk and increase efficiency. Custom training is up-to-date with the latest activity of key standard setters and is typically more engaging.
Finally, custom training lets you be creative. We will help you to structure the training in a way that maximizes your return on investment. In the past our client firms have:
Invited a subset of their clients to all or a portion of the training
Supplemented onsite training with a pre or post-event webinar
Used a proctored rebroadcast to bring ensure newer staff understood the fundamentals before attending live training on more advanced topics
Partnered with other smaller regional firms to share costs
We are proud that 90% of our clients return for multiple training sessions. We believe that in developing relationships with our firms and continuing to provide relevant information between sessions through our monthly newsletters as well as periodic check-ins.
Is virtual training as good as onsite training?
Yes. If 2020 had a silver lining, the ability to use virtual training in a highly engaging way through the use of case study, breakout group discussion, audience participation, and even gamification allowed professional trainers to continue to provide excellent training that exceeded expectations.
We were very pleased with Melisa's training. Though we had an eight-hour online class, she kept things moving all day. Never a dull moment. Her knowledge and passion for training make her an excellent trainer. Additionally, her use of technology–for example, rooms inside of Zoom–made the class engaging.
Charles Hall
Quality Control Partner
McNair, McLemore, Middlebrooks & Co., LLC
In 2021, we are taking that a step further by employing "chunking" adult learning strategies to promote retention and improve return on investment. Many of our clients who historically have contracted with GLS for one or two-day onsite events have opted instead for a series of two to four credit webinars. Feedback on these series has been strong. While we look forward to the time when onsite events are less restricted, we recognize and embrace the reality that virtual training is here to stay.
Do you offer recorded content for on-demand catalogs and recorded seminars?
Yes. Galasso Learning Solutions offers 100+ credits of recorded content that is suitable for on-demand catalogs or recorded seminars. Recorded content from GLS is shot on a professional mirrorless camera and rendered in Full HD, which offers high-quality audio and video at a size that is appropriate for streaming. The final product is an mp4 featuring both the course slides and speaker video ("picture in picture" style) which is easy to load into virtually any learning platform. Additionally, our recorded content comes with the NASBA required elements to make the conversion to on-demand easy for you.
See our recorded content page for more detail.
How and when can I book a custom training event for my firm?
Custom training dates fill up fast! We recommend booking at least 6 months in advance. Contact us below with your training needs and timeframe and we will get back to you ASAP.
What should I expect to invest for custom training?
At GLS, we believe in the power of ongoing, valuable training that resonates with those in the room (virtual or in-person). For this reason, none of our trainings come out of a box. Instead, each program is developed custom for the organization. The rate of investment is calculated based on the number of training hours and level of customization. Want to find out what your training will cost? Schedule your free consultation.
Nothing is more expensive than inappropriate, outdated, or unengaging CPE. The opportunity cost alone of pulling team members away from billable work is considerable and you need to make it count!
Does GLS offer consulting services or quality reviews?
Yes. GLS recognizes that high-quality CPE is an important step for CPA firms to deliver excellent service to their clients, but given the pace of change in our industry, CPE is not the end of the line. Consultative services from GLS are a great next step for firms as they implement challenging standards. Many of our long-standing clients view us not only as a periodic provider of engaging CPE but also as a valuable technical resource to assist with challenging questions, to support quality control, and to address issues found during peer review. Consultative services are designed to support the maintenance of efficient processes to reduce risk and make your teams more productive.
GLS only provides consulting and quality control offerings to our current training clients to continue to build the client relationship.
Does GLS support conferences?
Yes. Galasso Learning Solutions frequently facilitates sessions at conferences. Hiring a professional speaker makes the difficult task of conference planning just a little bit easier while ensuring those attending your conference receive high-quality, engaging training that will make them want to come back next time.
If you are looking for a few credits of technical content, a keynote, professional ethics, or even an entire 16-credit conference, GLS can support you.
We can support in-person events, live virtual conferences, and proctored replays.
See our conference planner's page for more detail.
What is the process for creating custom CPE?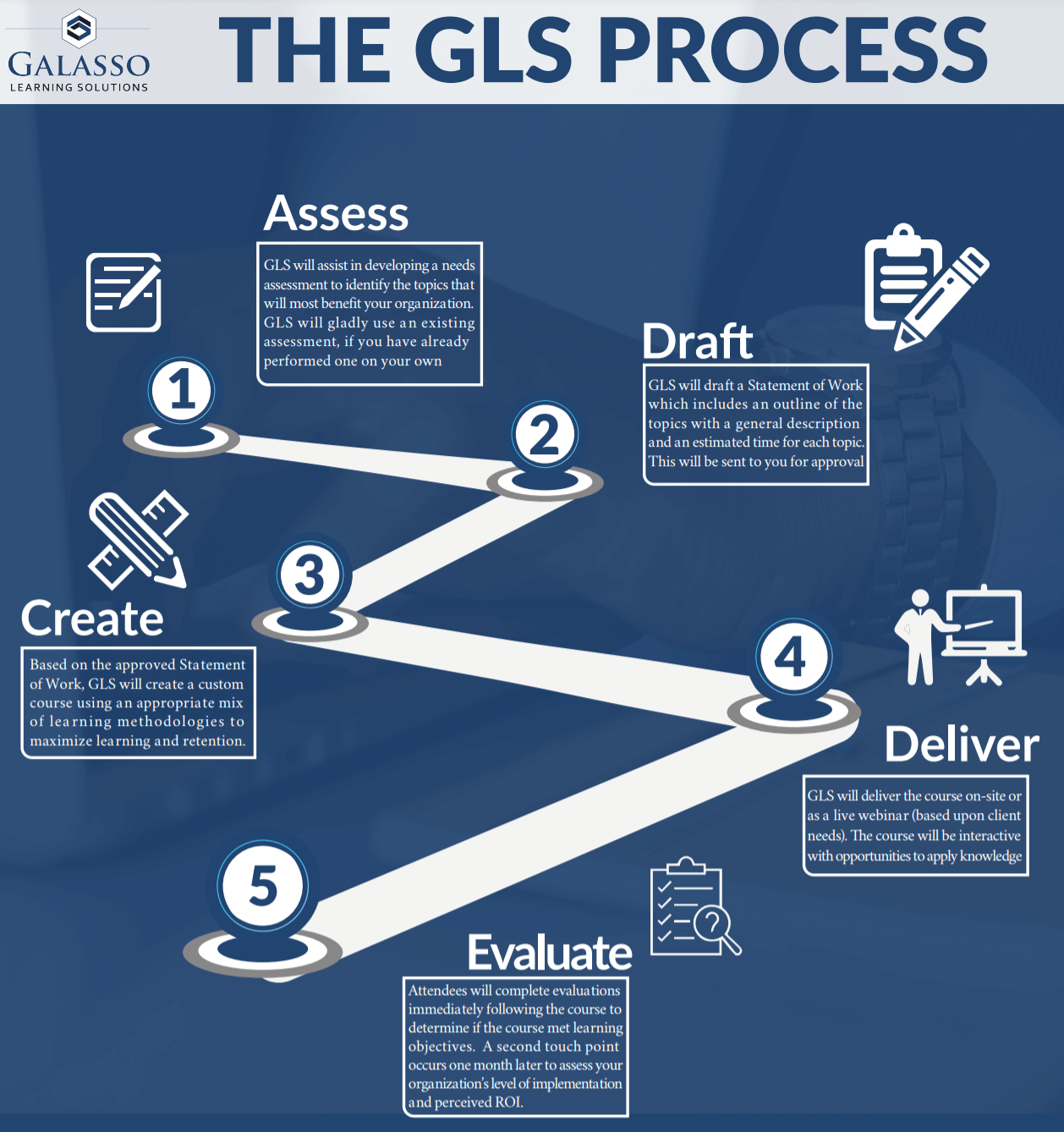 Do you offer CPE options to complement custom training?
GLS also offers proctored rebroadcasts. These prerecorded training events are typically used as prerequisites to assist staff who may need an introduction to topics before they can be ready for an update-level course.
They also allow firms working with a limited training budget who are not ready for full custom training to still benefit from up-to-date prerecorded content.
We can schedule the webinar for just your firm at the time most convenient. Proctored rebroadcasts include timely responses to attendee questions. Proctored rebroadcasts are charged on a per-person basis.
I am an individual CPA in need of some quality CPE credits. Can GLS help me?
Yes. GLS periodically offers live webinars on hot topics for individuals. Read our monthly newsletter for announcements of upcoming live webinars. We also partner with AdvancedCPE to provide proctored rebroadcasts. These classes are prerecorded but include a live instructor to answer questions. These can be used as prerequisites for firms who need a subset of attendees to receive additional preparatory training or for individual CPAs who work for firms that are not yet ready for custom CPE. These courses are offered multiple times for various time zones. If you are looking for a particular course and don't see it on the schedule, don't hesitate to reach out to  operations@galassolearningsolutions.com to see if we can get one on the schedule for you!